Welcome to the Kairos Forms Bank. All the forms you need to join the Kairos #43 team are available here. When you click on a form link below, it will open with all the fields you fill in highlighted in blue. The team application and closing service applications look like this: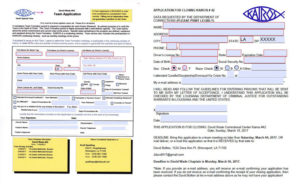 If the fields are not highlighted, look in the upper right corner for an option to "open with different viewer." Click that, then reopen the form with Adobe Reader. You must have the Adobe Reader to access and fill out these forms online. You can download it for free here.
Kairos #43 Team Application: You can fill this out online and print it on your printer to mail in or take to the first team meeting. You can also save the completed application as a PDF and email it to the Inside Coordinator, Bill Duncan. If that's your choice you'll need to sign the agreement and Statement of Faith at the first meeting.
Download the Kairos #43 team application.
 Attend the closing service for Kairos #43 on March 18, 2018
and get a front row seat for a miracle! 
Download the Kairos #43 Closing Service application.
Want more information about Kairos Prison Ministry and Kairos #43 specifically?
Download the Kairos Volunteer's Guide brochure. 
It's got the specifics for #43 included.